Accommodations
Our group accommodations are suitable for groups up to 120 people. All units are complete with a fully equipped kitchen, a dining room, a sitting area with a TV, and modern plumbing.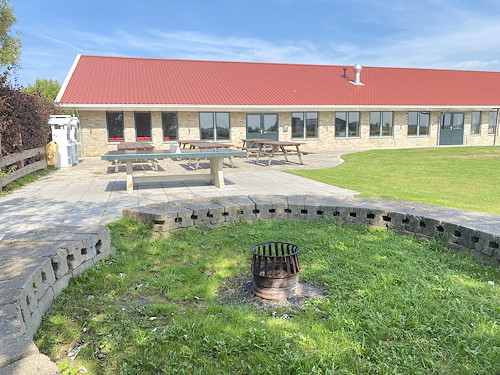 Stolp III (max. 38 pers.)
Accommodaties
Our group house Stolp III for 50 persons can be reduced to a house for 38 persons by closing off bedrooms. The closed off part of the house will not be occupied by other guests during your stay. This house is only available in the down season and in some weekends of the high season. This house is very suitable for groups which include children, like families and school trips.
This house has 6 bedrooms for 6 persons and 1 bedroom for 2 persones, all having their own private bathroom. The interior is in country western style including warm colours, solid oak doors, frames and tables. All spaces are located on the ground floor and have underfloor heating except for the playroom, which is upstairs. Free WIFI is available.

Outdoor area

On the south side of the accommodation you will find the terrace and sports field which are exclusively available to you. The terrace is equipped with flagstones and there ar enough picnic tables to eat outside with the whole group. There are two concrete BBQs, a fire pit and a table tennis table. There are football goals and a volleyball net on the large sports field. You have to bring balls and table tennis baths yourself.

On the north side there is also a communal playground with an air trampoline, bird's nest swing and a family swing. There is also a playground with a climbing frame, slide and a hammock. All playground equipment has been inspected and provided with the correct fall-absorbing surface.

Bedroom 2 p.

Two single beds

Cabinet

Safe

Privat Bathroom

Shower

Toilet

Sink

Underfloor heating

Bedroom 6 p.

Two single beds

Two Bunkbeds

Cabinet

Private bathroom

Shower

Toilet

Double sink

Underfloor heating

Kitchen

Refrigirator 569 liter

Freezer 315 liter

Large six burner gasstove

Large baking tray

Large gas oven

Microwave

Coffee machine, filters included

Senseo coffee machine

Water boiler

Mixer

Dishwasher, detergent included

Underfloor heating

Living room

Seating area

Televsion

Separate toilet

Shuffleboard

Wifi (free of charge)

Underfloor heating

Play attic

Seating area

Table tennis table

Shuffleboard

Central heating

Private outdoor area

Terrace

Barbecue

Picnic tables

Table tennis table

Bicycle parking place

Campfire place

Large playground

Volleybal field

Outdoor area

Air trampoline

Bird nest swing

Family swing

Play device

Parking lot (free of charge)

Location

Distance to the beach ca 3 km

Distance to the ferry port ca. 3,5 km.

Distance to grocery store ca 300m.

Distance to the village centre ca 300m.

Distance to the forrest ca 3 km.

Distance to bike rental ca 500m.

Availability & prices

December 2023
Mo
Tu
We
Th
Fr
Sa
Su
48
27
28
29
30
1
2
3
49
4
5
6
7
8
9
10
50
11
12
13
14
15
16
17
51
18
19
20
21
22
23
24
52
25
26
27
28
29
30
31
01
1
2
3
4
5
6
7

January 2024
Mo
Tu
We
Th
Fr
Sa
Su
01
1
2
3
4
5
6
7
02
8
9
10
11
12
13
14
03
15
16
17
18
19
20
21
04
22
23
24
25
26
27
28
05
29
30
31
1
2
3
4
06
5
6
7
8
9
10
11

February 2024
Mo
Tu
We
Th
Fr
Sa
Su
05
29
30
31
1
2
3
4
06
5
6
7
8
9
10
11
07
12
13
14
15
16
17
18
08
19
20
21
22
23
24
25
09
26
27
28
29
1
2
3
10
4
5
6
7
8
9
10

March 2024
Mo
Tu
We
Th
Fr
Sa
Su
09
26
27
28
29
1
2
3
10
4
5
6
7
8
9
10
11
11
12
13
14
15
16
17
12
18
19
20
21
22
23
24
13
25
26
27
28
29
30
31
14
1
2
3
4
5
6
7

April 2024
Mo
Tu
We
Th
Fr
Sa
Su
14
1
2
3
4
5
6
7
15
8
9
10
11
12
13
14
16
15
16
17
18
19
20
21
17
22
23
24
25
26
27
28
18
29
30
1
2
3
4
5
19
6
7
8
9
10
11
12

May 2024
Mo
Tu
We
Th
Fr
Sa
Su
18
29
30
1
2
3
4
5
19
6
7
8
9
10
11
12
20
13
14
15
16
17
18
19
21
20
21
22
23
24
25
26
22
27
28
29
30
31
1
2
23
3
4
5
6
7
8
9

June 2024
Mo
Tu
We
Th
Fr
Sa
Su
22
27
28
29
30
31
1
2
23
3
4
5
6
7
8
9
24
10
11
12
13
14
15
16
25
17
18
19
20
21
22
23
26
24
25
26
27
28
29
30
27
1
2
3
4
5
6
7

July 2024
Mo
Tu
We
Th
Fr
Sa
Su
27
1
2
3
4
5
6
7
28
8
9
10
11
12
13
14
29
15
16
17
18
19
20
21
30
22
23
24
25
26
27
28
31
29
30
31
1
2
3
4
32
5
6
7
8
9
10
11

August 2024
Mo
Tu
We
Th
Fr
Sa
Su
31
29
30
31
1
2
3
4
32
5
6
7
8
9
10
11
33
12
13
14
15
16
17
18
34
19
20
21
22
23
24
25
35
26
27
28
29
30
31
1
36
2
3
4
5
6
7
8

September 2024
Mo
Tu
We
Th
Fr
Sa
Su
35
26
27
28
29
30
31
1
36
2
3
4
5
6
7
8
37
9
10
11
12
13
14
15
38
16
17
18
19
20
21
22
39
23
24
25
26
27
28
29
40
30
1
2
3
4
5
6

October 2024
Mo
Tu
We
Th
Fr
Sa
Su
40
30
1
2
3
4
5
6
41
7
8
9
10
11
12
13
42
14
15
16
17
18
19
20
43
21
22
23
24
25
26
27
44
28
29
30
31
1
2
3
45
4
5
6
7
8
9
10

November 2024
Mo
Tu
We
Th
Fr
Sa
Su
44
28
29
30
31
1
2
3
45
4
5
6
7
8
9
10
46
11
12
13
14
15
16
17
47
18
19
20
21
22
23
24
48
25
26
27
28
29
30
1
49
2
3
4
5
6
7
8

December 2024
Mo
Tu
We
Th
Fr
Sa
Su
48
25
26
27
28
29
30
1
49
2
3
4
5
6
7
8
50
9
10
11
12
13
14
15
51
16
17
18
19
20
21
22
52
23
24
25
26
27
28
29
01
30
31
1
2
3
4
5

Booked

Free

Arrival days

Departure days

December 2023

There are no prices for this month

January 2024

February 2024

March 2024

April 2024

May 2024

June 2024

July 2024

August 2024

September 2024

October 2024

November 2024

December 2024

Previous month Next month